Billing Reminder Calls with Autopay By Phone
We help solve these problems
Staff taking Credit Cards Over the Phone Is a Waste of Time

Patients tie up your staff to pay with a credit card – a bad use of staff time.
Credit Card Payments Only Possible During Work Hours

You want to allow patients to pay their bills 24 x 7.

You Want to Make it Easier for Patients to Pay over the Phone
When that billing reminder call alerts the patient to the problem that they have an outstanding balance, you want to offer an easy self-service autopay by phone way to "immediately solve that problem!"
Patient Autopay by Phone (We Call the Patient)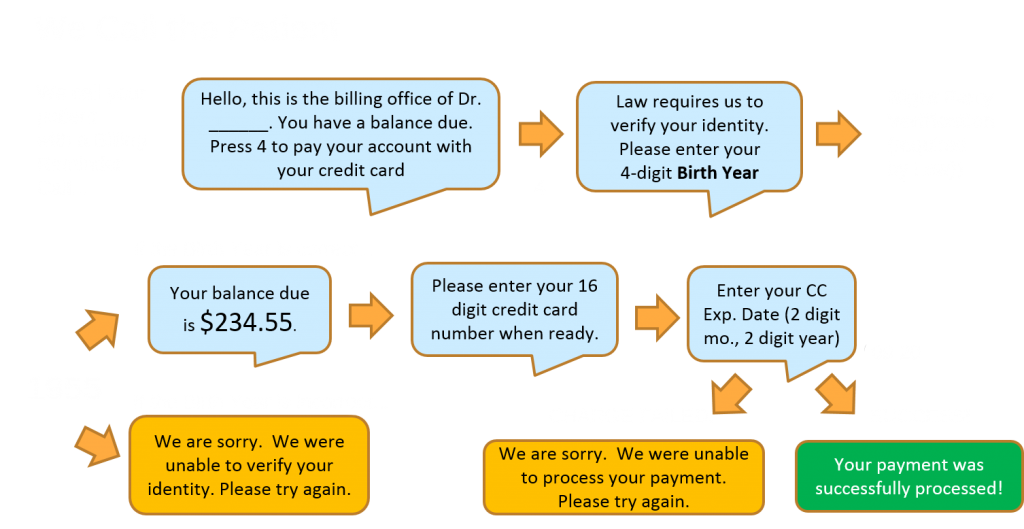 Increase patient payments by offering 24/7 self-service options: auto-pay by phone and a web payment portal.
Increase patient payments and save staff time by adding autopay by phone to your Billing Reminder Calls today!
75% of Consumers Want To Pay Online
Seventy-five percent of consumers opt to pay their household bills through online payment channels.
– Source: InstaMed Trends in Healthcare Payments
Reduced Manual Credit Card Processing Time by 100%
With 1-800 Notify's Autopay by Phone service, we have reduced staff time to process payments by 100%. Patients are entering and paying their accounts without ever needing to talk to our staff on the phone. It's seamless, secure and fast. I'm amazed at how many patients are choosing to pay using the Autopay by Phone system at the end of the billing reminder calls.
– Customer Service Manager, Medical Billing Firm