Inbound IVR Payments:
Patients/Members Call In to Check and Pay Balances (24 x 7)
We help solve these problems
Too Many Calls to Your Staff To Pay with a Credit Card or e-Check

Your staff is tied up taking credit card or e-check payments over the phone – a waste of your valuable staff time (let us do the payments for you with our IVR System)!
You can only accept phone payments during weekday work hours…
Currently you are missing out on phone payments on nights & weekends when your patients are more likely to be able to pay. Let our 24 x 7 IVR system handle these after-hours payments!
Save Staff Time & Increase Patient Payments with an Automated Inbound IVR System!
Inbound IVR System Call Flow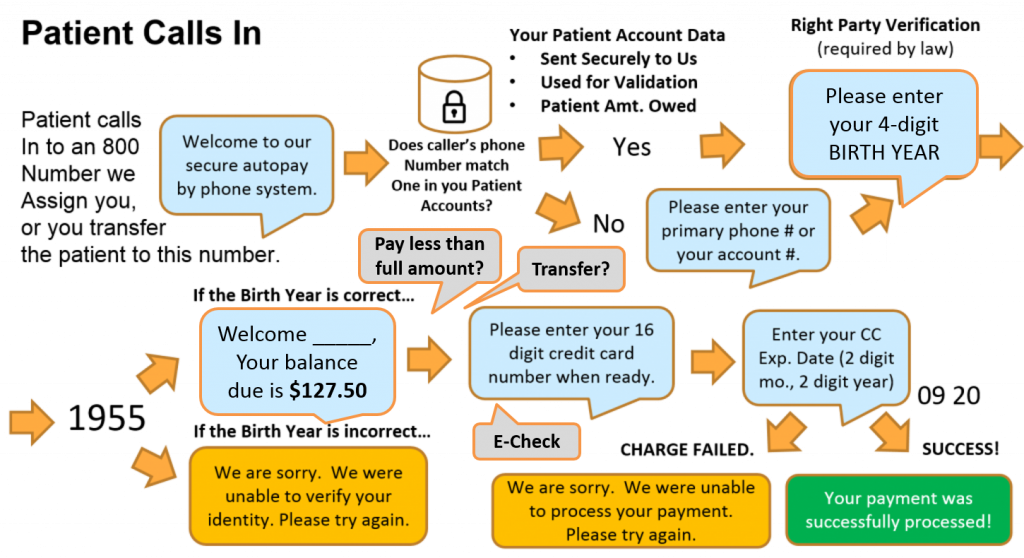 Epic Systems Integrated IVR Autopay by Phone: Immediate Results Containment Rate Went from 0% to 30% in Less that 3 Months
Immediate results attained. Our IVR containment rate went from 0% to 30% and climbing in less than 3 months [ Over 30% of all calls received are now handled by the 1800 Notify automated system ] Due solely to 1800 Notify s IVR Autopay Services. With our ability to take payments via our IVR 24/7 our patient s are happier and we can focus our attention on providing Top Notch Customer Service by resolving our patient s concerns.
The 1800 Notify staff commitment to their client is reflective not only by professionalism, but their willingness to accommodate our request and the quick responses we receive.
Faye Mosley, Customer Service Call Center Manager, Los Angeles, CA