Inbound IVR Payments:
Patients Call In to Check and Pay Balances (24 x 7)
We help solve these problems
Too Many Calls to Your Staff To Pay with a Credit Card or e-Check

Your staff is tied up taking credit card or e-check payments over the phone – a waste of your valuable staff time (let us do the payments for you with our IVR System)!
You can only accept phone payments during weekday work hours…
Currently you are missing out on phone payments on nights & weekends when your patients are more likely to be able to pay. Let our 24 x 7 IVR system handle these after-hours payments!
Save Staff Time & Increase Patient Payments with an Automated Inbound IVR System!
Inbound IVR System Call Flow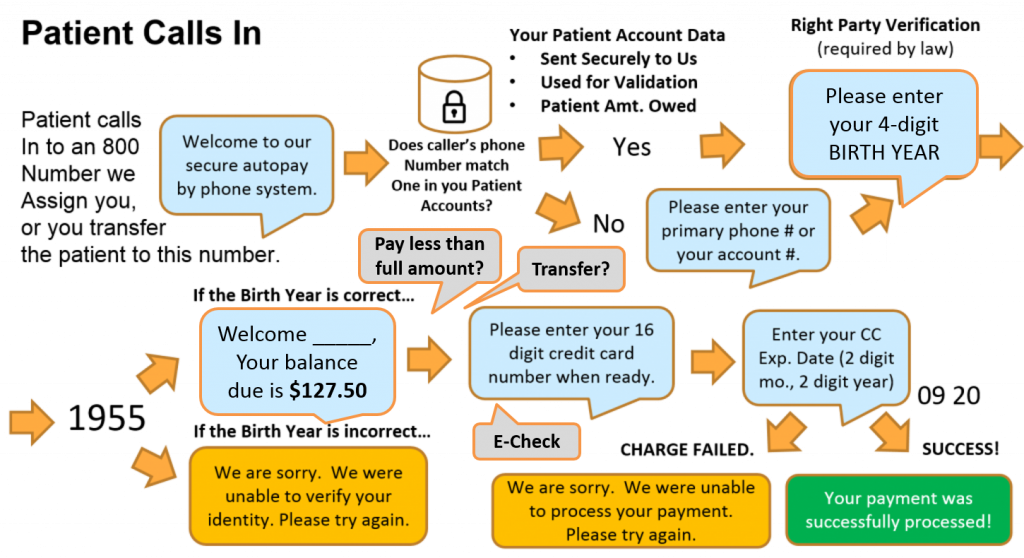 Reduced Manual Credit Card Processing Time by 100%
With 1-800 Notify's Autopay by Phone service, we have reduced staff time to process payments by 100%. Patients are entering and paying their accounts without ever needing to talk to our staff on the phone. It's seamless, secure and fast. I'm amazed at how many patients are choosing to pay using the Autopay by Phone system at the end of the billing reminder calls.
– Customer Service Manager, Medical Billing Firm